Your Guide to Best Black Friday iPad Deals of 2021
Black Friday deals on iPads are always a hot ticket this time of year, but there are so many options sometimes it's hard to truly find the BEST deal! As of now, major retailers are offering the biggest discounts of the year - up to the tune of hundreds of dollars.
While supplies are impacted across the globe due to shipping issues dragging down Black Friday retailers, we put together this list with products in stock, or promising to be in stock soon!
It's also worth mentioning that Apple holds its own Black Friday event, including a $100 gift card on the iPad Pro 11" and iPad Pro 12.9".
When Do Black Friday Deals Actually Start?
Black Friday has been a tradition for decades, but we have come a long way from waiting in line to storm your local Walmart to literally fight your neighbors for the hottest deals.
In the post-pandemic world, Black Friday is almost primarily a digital event now - and has been extended from a one-day sale to a multi-day or even multi-week campaign with retailers fighting to be the first to capture the attention of the crowd!
But typically, the BEST deals are still on or after Black Friday starting at midnight, so we will continue to update this list throughout the week, but here are the best deals we found so far!
Note: Surprisingly, we left Walmart off this list since they consistently had higher prices than other major retailers at the time of writing.
The Best Black Friday iPad Deals for 2021
Black Friday Deals: 10.2" iPad 2021
Apple's latest 10.2" iPad combines an incredible Retina display, impressive performance specs, and comfortable size that is perfect for casual users or first-time iPad buyers.
Right now, most retailers are holding firm with the list price for both models of the 10.2" iPad. The current prices for the two base models are:
64GB Storage: $329
256GB Storage: $479
You can take your pick of top retailers right now, but we will let you know when these prices change!
Here's one for the no-frills crowd. If you just want a top-quality iPad case without spending a fortune, your best option is this Classic Black iPad case. It has everything you need to use your iPad effectively and to protect it from accidental damage.
Black Friday Deals: iPad Mini
Looking for something a little more mobile that still packs a punch? The new iPad Mini was designed to do just that. The new A15 Bionic chip delivers impressive performance with even traditionally difficult tasks like photoshop or gaming.
Like the iPad, we haven't seen many deals going live yet for the iPad Mini, but there will likely be some deals popping up soon.
The handcrafted book-bound cover is made in our bookbindery and features a Smart Cover with magnets to activate sleep/wake functionality. The DODOcase Multi-Angle for iPad mini boasts a similar design to our traditional DODOcase inspired by the artist journals of years gone by.
Black Friday Deals: iPad Air
With a thin and light design, the most recent iPad Air has just everything you need (and even more) to stay connected no matter where you go. With the iPad Air, you have the whole digital world at your fingertips.
Just with the previous two models, retailers have just started to warm up the crowd with slight discounts. Here are some of the best deal we found: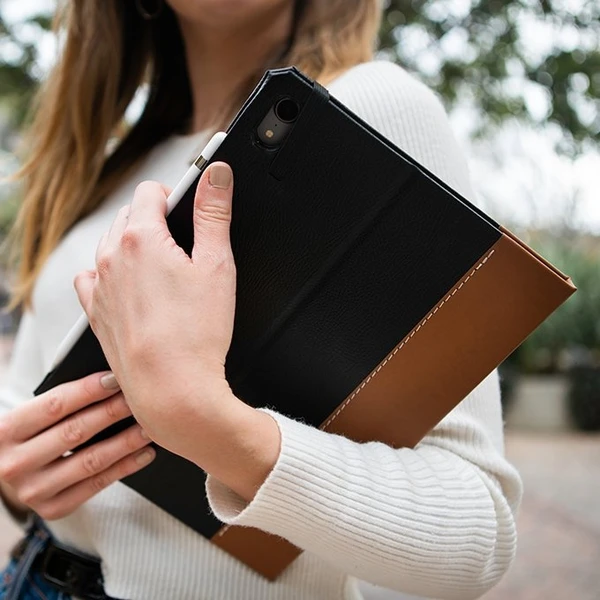 The Executive Leather line has been one of our best-selling iPad cases for years. Handcrafted using long-forgotten bookbinding techniques, this case is the epitome of status and style for those who value quality and attention to detail.
Black Friday Deals: iPad Pro
Our last stop: the iPad Pro. Resolution, size, weight, performance, battery life, and storage - everything is better with the iPad Pro.
Here are some of the best deals we scoped out for you - we'll keep updating the list as Black Friday deals get hotter:
The Durables Sleeve is, hands down, the most portable way to carry your iPad around - simply slip your iPad in and out of the sleeve for use on the go.
Now, over to you! We'll keep scouting for the best Black Friday deals to help you snatch your iPad at laughably low prices.