Best iPhone Wallet Cases with a Secure Card Holder [2023 Guide]
If you don't like to carry many things on you during the day, iPhone wallet cases are a must for you. They combine the storage of a wallet with the drop protection of a phone case.
Grab your leather wallet case with your ID, and you're all set to go on a run or drive to work.
With the abundance of iPhone wallet cases out there, it can be hard to make a decision. Here's our 2022 buyer's guide for the best iPhone cases with card slots to narrow things down for you.
Our Top Pick
Shockproof CardCase for iPhone | from $44.95
*LIMITED TIME OFFER*
USE CODE 

SHOCK20

 FOR 20% OFF THE SHOCKPROOF CARDCASE THROUGH OCT 1, 2023
The ideal wallet case should have the best of both worlds - maximum protection for your phone with the capacity to carry a few credit cards.
That's why our top pick for best card holder iPhone case goes to the ShockProof CardCase. It features thick, high-quality leather to prevent scratches and provide a better grip.
The card slot is spacious while being totally secure. You won't have to worry about your cards falling out while on the go during a busy day.
There are four shades of high-quality leather available:
Traditional Black Leather

Traditional Brown Leather

Oil-Tanned Antique Leather

Oil-Tanned Brown Leather
It's also compatible with wireless charging - as long as you don't have too many credit cards in the slot.
The Runner-Up
Colorway Shockproof iPhone Cases | from $34.95
*LIMITED TIME OFFER*
USE CODE

 

SHOCK20

 

FOR 20% OFF THE COLORWAYSHOCKPROOF CARDCASE THROUGH OCT 1, 2023
Coming in at an extremely close second place for best card holder iPhone case is the Colorway Shockproof case. It's perfect if you aren't a fan of bulkier cases that take up a lot of room in your pocket. This case is so slim that you may think you forgot to put it on.
Don't let that fool you into thinking it's not durable, though. It features a shatter-resistant rubber phone tray that can withstand drops easily.
Available with or without the pocket and in six stunning colors:
Blue Italian Pebble

Orange Italian Pebble

Pink Italian Pebble

Purple Italian Pebble

Red Italian Pebble

Yellow Italian Pebble
The leather card pocket is stretchable - so you can carry up to four cards at a time.
Most Affordable Case with a Card Holder
Smartish iPhone 13 Wallet Case | from $19.99
Sometimes the best iPhone case is the most affordable one. If that sounds like your philosophy - the Smartish iPhone 13 will satisfy your need for a reasonable price.
Beyond being easy on your bank account - it's also a reliable, lightweight, and durable case.
The card holder in the back fits three credit cards and has enough room for some folded bills. If you need a case that supports wireless charging, you'll have to look elsewhere - it's not compatible with a wireless or MagSafe charger.
Most Luxurious Wallet Case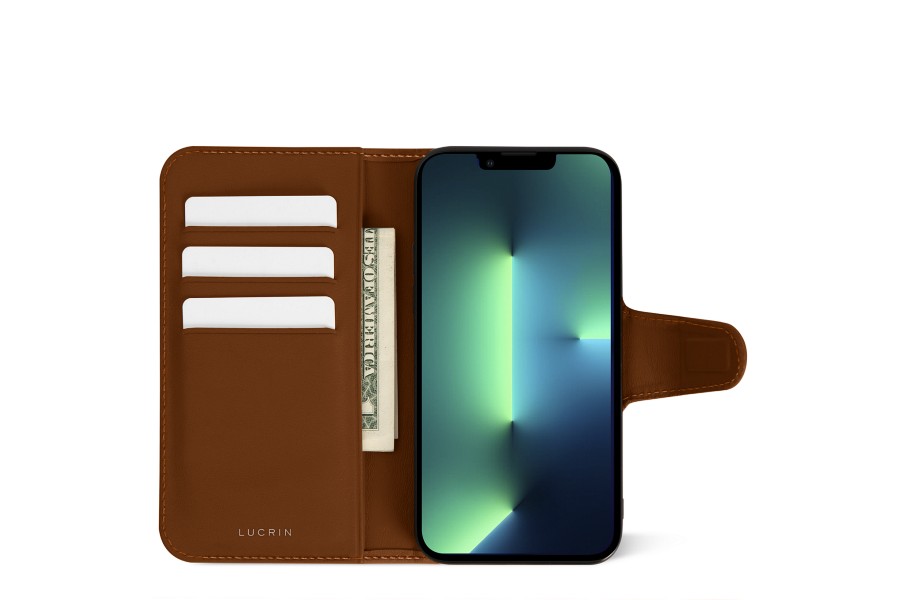 iPhone 13 Luxury Wallet Case | from $179.00
If money is no concern, you're sure to gravitate toward this luxurious case featuring smooth leather. The case features a magnetic closure for added protection. Your iPhone will rest inside a protective silicone cover.
The premium leather on the outside comes in many different colors, so you can match it with any outfit.
They also offer various types of leather - such as genuine ostrich leather - but it will increase the price tag significantly.
It's compatible with wireless charging and MagSafe chargers. To further customize your case, you can add a monogram to engrave your initials or name.
Best Custom iPhone Wallet Case
Custom iPhone Cases | from $44.95
Instead of going with a stock iPhone case - why not create your own? With DODOCase, you have the option of going the custom route. The step-by-step editor lets you personalize every aspect of your wallet case. 
Exterior case color (dozens of colors available)

The color of the leather binding

Add a credit card pocket

Interior case color

Closure/elastic color

Monogramming (optional)
As you can see - you can create a unique wallet case for iPhone from scratch.
Rely on DODOCase for Premium Apple Leather Wallet Cases with Secure Card Slots
Phone cases are our life at DODOCase..
Our team handcrafts every case that we make for iPhones, Macbooks, and iPads. We only use premium leather that ages naturally and only continues to look better.
If you need a sturdy wallet or card holder case for your iPhone, feel free to check out our collections to find the perfect case for your needs.